Chai – the Traditional Happiness of Indians
Start the day with a sip of 'kadak' tea and get charged up!!!!!!!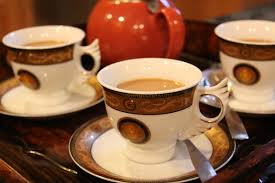 This has been the tradition of Indians from years. The tea is an integral part of the rhythm of Indians. No matter whom you are, rich or poor, young or old, tea is an important part of everybody's routine.
Peeping into the history of Indian tea, from being used simply as a medicine in the 18th and early 19th centuries, tea has today become an essential part of life in India. The British in 1830's started the tea plantation in India, primarily for export to Britain. In the early 1990's, when the British owned Indian Tea Association, tea drinking popularized among the Indians. In the effort to promote tea in India, several promotional campaigns and tea stalls were set up in cities and towns, factories were encouraged to give tea breaks to their workers, and even home demonstrations were organized by the British. Even, the tea stalls were set up at the railway stations. Gradually, drinking tea gained momentum after the Second World War and by the end of the 19th Century; Indians were drinking almost 70 percent of a huge crop of 715,000 tons per year.
Tea has various forms- herbal tea, black tea, green tea and many more! The most popular form is the herbal tea. In winters, 'Masala Chai' becomes the taste of people with the essence of Ginger-cloves and in summers, 'cardamom tea' is in demand. "Proper" English tea is also drunk among many communities and classes, especially those who had trading and social relations with the British. Today, the country consumes 837,000 tons of it every year- the popularity of tea can be assumed from this fact.
'When your day seems topsy, turvy and as stormy as can be, there's nothing quiet as tranquil as a hot cup of tea.'
It is also interesting to know that several decades ago, chai was served in small clay pots, known as 'kulhar' in Hindi or 'bhar' in Bengali. While the bowls are still popular in Calcutta, plastic cups, tiny glasses and steel tumblers have become the vessels of choice across most of India.
"Tea is cheap, affordable, and addictive in nature. Nearly 90 percent of Indian households are regular tea-drinkers," says ASSOCHAM Secretary General DS Rawat. "Awareness about health benefits associated with moderate intake of tea is a significant factor behind an upsurge in demand, as more and more people become aware of the healing properties of tea. It not only helps combat heart-related ailments but also lowers cholesterol, protects the skin, keeps cancer at bay, strengthens bones and teeth, and contains no calories, fat or salt."Check out more Indians have proved that no matter where they are, what they do, Chai was, and will continue to be the 'Trademark of Indian flavor'.